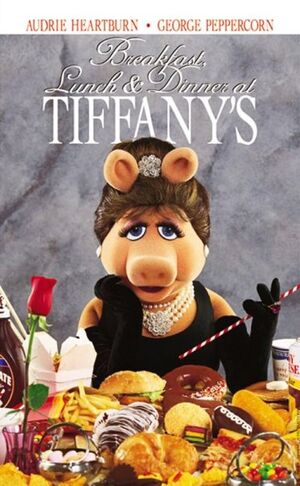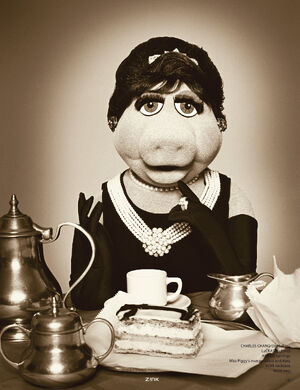 Breakfast at Tiffany's is a 1961 American film starring Audrey Hepburn and George Peppard in the leading roles. The film, directed by Blake Edwards and released by Paramount Pictures, is based on the novella of the same name by Truman Capote. The soundtrack included Toots Thielemans' harmonica version of "Moon River".
References
In a 2015 interview, Miss Piggy told the website Broadly that Audrey Hepburn is her style icon. "I mean, she absolutely defined the little black dress and pearls look that has meant so much to me and so many other women. Plus, she came up with the fabulous idea of Breakfast at Tiffany's. (Without her, I would never have thought of having meals at a jewelry store. Now I do it all the time.) Naturally, over time, I've embellished and updated that look—with lots of help from designer friends like Zac Posen, Marc Jacobs, Jeremy Scott, Christian Louboutin and Jason Wu, Vivienne Westwood. Plus, I look good in anything."[1]
Sources
↑ "Don't Call Her Babe: How Miss Piggy Became the Coolest Feminist Pig in America", Broadly.com. Interview by Mitchell Sunderland, September 29, 2015.