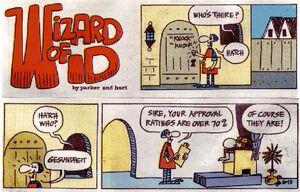 Brant Parker (1920-2007) is a newspaper cartoonist best known for drawing The Wizard of Id, which began in 1964 and was co-created with Johnny Hart. Wizard of Id was later adapted as a pilot by Jim Henson.
Parker's other work includes the strip Crock, about foreign legionnaires. Crock was referenced in the Muppet Babies episode "Comic Capers".
External links
Ad blocker interference detected!
Wikia is a free-to-use site that makes money from advertising. We have a modified experience for viewers using ad blockers

Wikia is not accessible if you've made further modifications. Remove the custom ad blocker rule(s) and the page will load as expected.