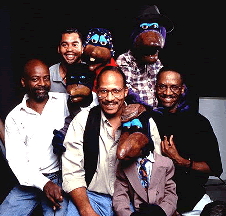 Brad Brewer is involved in all aspects of puppet theater from design, sculpture and painting to carpentry and performing. Brewer's interest in puppetry began when he was six years old. He was self-taught as a child and later trained under Jim Henson. Brewer founded the Brewery Troupe, a New York puppet troupe, in 1973.
Brewer appeared on an episode of Mister Rogers' Neighborhood[1] and puppeteered on the films Key Exchange and Ransom (as his Crowtations puppet character) and in a Coca-Cola commercial.
Muppet/Henson credits
Sources
↑ "Innovative Lives: Meet the Brewery Troupe", Smithsonian.org. March 24, 1999.
External links