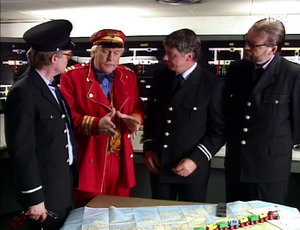 Brødrene Dal og legenden om Atlant-is is the third series (12 episodes) about the Dal Brothers from 1994. It aired for the first time in Norway on NRK on September, 1994. The series is known for breaking the fourth wall in each episode.
The series followes the adventures of the time traveling Dal brothers, who were summoned by the Saami Council just as they were about to get the Nobel Peace prize. The Council wants the brothers to find the pots Irka and Urk from the holy city of Atlant-is, which sank in the ocean 4000 years ago. During the adventure, the brothers encounter wolves, ghosts, skeletons, Miss Moss from 1940 and various other dangers.
At the end of the eighth episode they pull an emergency brake on the train they are on, and the narrator ends the episode with the question: "How can a train on 28 tons stop on one meter? And what will NSB (Norwegian railroads) say to it all?". At the start of episode 9, 3 NSB officials are in a heated discussion on how a train can go to a sudden stop after one meter as it should use at least 600 meters to reach a full stop. They use a video recording of the previous episode, a toy train and a map to try to figure it out. Then suddenly, O. Tidemann steps into the room. He explains that on Sesam Stasjon, they move the cameras while the trains are not moving, but it looks like the trains are moving.