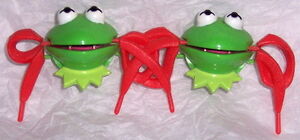 Bow Biters are plastic clips made by Brookside Enterprises in the late 1980s that can be tied into sneaker laces to help keep shoes tied. The clip has a character's face on the front that "bites" the knot when the laces are tied into the character's mouth.
Brookside made a set of Muppet Bow Biters in 1988, featuring Kermit the Frog, Miss Piggy, Fozzie Bear, Gonzo, Animal and Rowlf the Dog. Brookside followed in 1989 with a set of Muppet Lace Faces -- little Kermit and Miss Piggy heads that could be attached to the ends of shoelaces.
Moto Concepts revived the Bow Biters in 2005, and made a set of Sesame Street Bow Biters, featuring Bert and Ernie, Big Bird, Cookie Monster, and Elmo.
Ad blocker interference detected!
Wikia is a free-to-use site that makes money from advertising. We have a modified experience for viewers using ad blockers

Wikia is not accessible if you've made further modifications. Remove the custom ad blocker rule(s) and the page will load as expected.