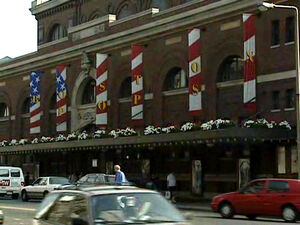 Boston Symphony Hall is a concert hall located in Boston, Massachusetts. Established in 1900, the hall was originally built for use by the Boston Symphony Orchestra. It is currently the home of the Boston Pops Orchestra.
The hall is the setting for Evening at Pops, a PBS concert series featuring performances by the Boston Pops. Two concerts featuring the cast of Sesame Street were televised from there, in 1971 and 2001.
The hall was later featured in the direct-to-video special, Elmo's Musical Adventure: Peter and the Wolf, where Papa Bear and Baby Bear attend a concert of Peter and the Wolf. Though parts of the theater were re-created through sets (such as the balcony and backstage rehearsal room), the live exterior of the building is seen as the two bears arrive. The two are then shown entering through the hall's lobby and during the credits, are shown live at the concert, observing the show from the balcony.
Ad blocker interference detected!
Wikia is a free-to-use site that makes money from advertising. We have a modified experience for viewers using ad blockers

Wikia is not accessible if you've made further modifications. Remove the custom ad blocker rule(s) and the page will load as expected.