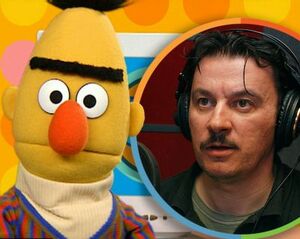 Boris Svrtan (b. 1964) is a Croatian voice actor who dubbed Bert (Berti) in Ulica Sezam, the Croatian package dubbing Play With Me Sesame, Elmo's World, and other segments.
Svrtan dubbed Isaac Sumdac on Transformers Animated and parts in the Romanian series Women Stories. He began his acting career when Croatia was still part of Yugoslavia, including stage work and a small part as a security guard in the 1991 film The Pope Must Diet (with Robbie Coltrane, Paul Bartel, and Robert Stephens).
Ad blocker interference detected!
Wikia is a free-to-use site that makes money from advertising. We have a modified experience for viewers using ad blockers

Wikia is not accessible if you've made further modifications. Remove the custom ad blocker rule(s) and the page will load as expected.