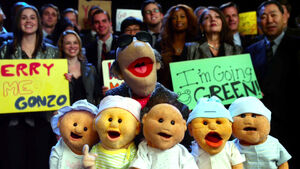 Bobby Benson is the leader of the Baby Band on The Muppet Show. He wears sunglasses, and has a cigarette perpetually dangling from his lip.
The Whatnot puppet, with his trademark shades, first appeared as a trumpeter with the Electric Mayhem band in episode 215 and episode 218. He also appeared as a banjo player in episode 302.
The six Babies debuted in episode 308.
They were brought together for the first time as "Bobby Benson's Baby Band" in episode 319, playing "Pennsylvania 6-5000" and "Tuxedo Junction." They also performed "Baby Driver" in episode 511, while speeding in a baby carriage.
Bobby was arrested in episode 405, and he left the Babies in the care of Miss Piggy, who tried to prove to Kermit that she would make a good mother. The Babies tore up Miss Piggy's dressing room and drove her crazy. They also performed onstage in that episode, playing Tchaikovsky's Piano Concerto No. 1 with Victor Borge. Bobby returned at the end of the episode to take charge of the Babies again.
Benson has also had cameo appearances in The Muppets Take Manhattan, The Muppets: A Celebration of 30 Years, A Muppet Family Christmas, The Muppet Christmas Carol (as a street corner choir leader, along with his baby band again), and Muppets Tonight episode 109. He also made a cameo in issue #2 of The Muppet Show Comic Book: Family Reunion.
Benson and his baby band most recently appeared Backstage and in front of the Muppet Theater during the finale in The Muppets. Benson appeared cigarette-free and was performed by David Rudman.