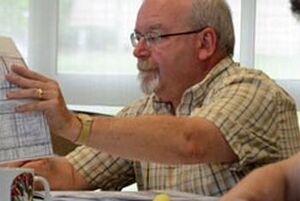 Bob Phillips served as art director on Sesame Street, credited as early as season 22 in 1990. He sometimes shared production designer credit with Victor DiNapoli and assumed the title solo starting in season 41 (2010). Phillips shared in several Daytime Emmy Awards to the show for Outstanding Achievement in Art Direction/Set Decoration/Scenic Design. He retired as an art director in 2015, after season 45.
Phillips began as a set designer for off-Broadway shows, from 1979 onward. He worked as an art director on several daytime soap operas, including Another World and Search for Tomorrow. He continued to design sets for stage productions through the end of his career, including stints with the Shakespearean companies Orlando Shakespeare Theatre and the Pennsylvania Shakespeare Festival.
Credits
External links
Ad blocker interference detected!
Wikia is a free-to-use site that makes money from advertising. We have a modified experience for viewers using ad blockers

Wikia is not accessible if you've made further modifications. Remove the custom ad blocker rule(s) and the page will load as expected.