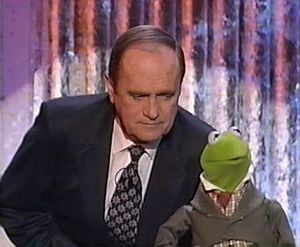 Bob Newhart (b. 1929) is a comedian and actor who has starred on such sitcoms as The Bob Newhart Show and Newhart.
In 1992, Newhart hosted Holiday Greetings from the Ed Sullivan Show, a Christmas special that featured guest appearances by Kermit the Frog, Miss Piggy, and other Muppets. Newhart tells Miss Piggy that he admires her karate chops, and Piggy offers a demonstration, using Kermit as a target. Kermit ducks for the final exercise, however, and Piggy hits Newhart instead.
External links
Ad blocker interference detected!
Wikia is a free-to-use site that makes money from advertising. We have a modified experience for viewers using ad blockers

Wikia is not accessible if you've made further modifications. Remove the custom ad blocker rule(s) and the page will load as expected.