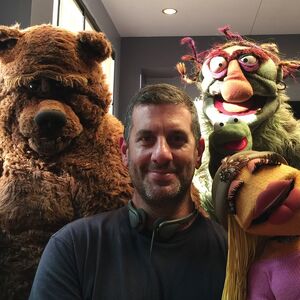 Bob Kushell is a television writer and producer who has written for Disney's animated series Goof Troop, The Simpsons, HBO's Dream On, and 3rd Rock from the Sun for which he also earned two Emmy nominations and won a Golden Globe for his role as producer.
Beginning in 2008, he hosted two seasons of Anytime with Bob Kushell, a talk show for online distributor Crackle, where he interviewed Neil Patrick Harris, Howie Mandel, Christina Applegate, Zachary Levi, Rob Corddry, Nicole Sullivan, Jenna Elfman, Bob Saget, Patrick Warburton, Tom Arnold, Hank Azaria, Jerry O'Connell, and Alex Trebek, among others.
In 2015, Kushell developed The Muppets for ABC from a pitch he wrote with Bill Prady. Kushell serves as show runner on the series, and has made several promotional appearances in advance of the premiere including San Diego Comic-Con and an ABC press event in which Kermit the Frog and Miss Piggy announced their break-up. On November 4, 2015, it was announced that he's leaving the show.
Writing Credits
Ad blocker interference detected!
Wikia is a free-to-use site that makes money from advertising. We have a modified experience for viewers using ad blockers

Wikia is not accessible if you've made further modifications. Remove the custom ad blocker rule(s) and the page will load as expected.