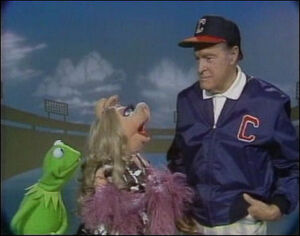 Bob Hope's Salute to the 75th Anniversary of the World Series was a 1978 television special with a sports theme, broadcast over NBC. Hosted by Bob Hope, with assistance from Danny Kaye, the guest roster included Kermit the Frog and Miss Piggy.
In their bit, Hope asks Kermit to join his
baseball team
. Piggy, acting as the frog's manager, makes outrageous demands: "three hundred grand for the season, limousine service to the ball park, caviar and champagne between innings, fresh flowers in the dugout daily and, oh yeah, a hairdresser for his agent." The sketch ends with Hope suggesting
football
instead, kicking around the old pig-skin, which merits a punch from Piggy.
[1]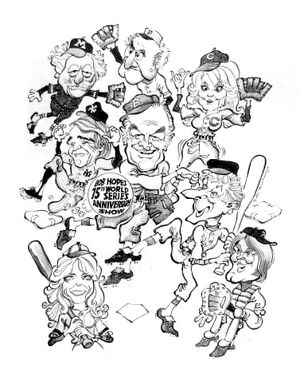 Also appearing were Glen Campbell, Steve Martin, and Cheryl Tiegs, among others.
Sources
↑ Mills, Bob. Hope Writer: My Life on the Road With Bob Hope. Chapter 7.
Ad blocker interference detected!
Wikia is a free-to-use site that makes money from advertising. We have a modified experience for viewers using ad blockers

Wikia is not accessible if you've made further modifications. Remove the custom ad blocker rule(s) and the page will load as expected.