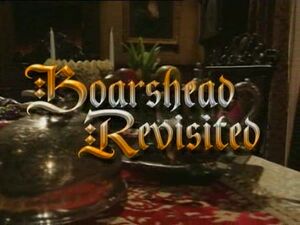 Boarshead Revisited was a recurring segment seen in the second season Muppets Tonight. The sketches were a follow-up to the first season's The Tubmans of Porksmith; and once again featured the comical misadventures of Howard Tubman (a rich food-loving pig) and Carter (his dry-witted butler).
These segments were produced as UK spots, and were not intended to be included in the American broadcasts of the show on ABC, but they ultimately aired on The Disney Channel.
The sketches' title is a spoof of Evelyn Waugh's 1945 novel Brideshead Revisted. An announcer introduces each segments as "Muppet Classic Theater Presents Howard Tubman in Boarshead Revisited."

Sketches
Picture
Title / Episode
Description

Applebutter and Applebutterability

---

Episode 202: Rick Moranis
Concerned about his weight, Tubman asks Carter to hide his last jar of apple butter. He immediately wants it back, and has Carter to search the mansion for it.

Steam and Steamability

---

Episode 208: The Cameo Show
Mr. Tubman uses a steam machine in order to lose weight, but with a better result than he thought...Mr. Tubman's body becomes very tiny (and it seems to have had an effect on his brain, too).
See also