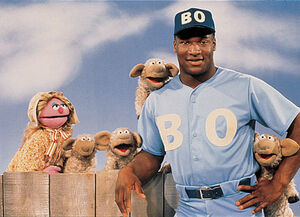 Vincent Edward "Bo" Jackson (b. 1962) appeared on Sesame Street in a Season 22 sketch spoofing the Nike "Bo Knows" commercials, along with Bo Diddley and Bo Peep.
Jackson also appeared in the celebrity version of "Monster in the Mirror".
A picture of Jackson appeared on Gonzo and Fozzie's blimp in the Muppet Babies episode "Get Me to the Perch on Time."
External Links
Ad blocker interference detected!
Wikia is a free-to-use site that makes money from advertising. We have a modified experience for viewers using ad blockers

Wikia is not accessible if you've made further modifications. Remove the custom ad blocker rule(s) and the page will load as expected.