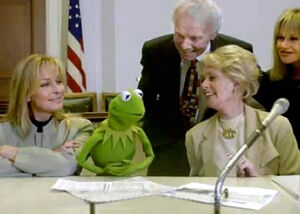 Bo Derek (b. 1956) is an American actress and model. Among her screen credits are the films 10 (with Julie Andrews and Dudley Moore), Tarzan, the Ape Man and Tommy Boy (with Dan Aykroyd).
Derek appeared with Kermit on Capitol Hill on March 29, 2000, in support of the Shambala Wild Animal Protection Act of 2000 that was introduced to Congress.
Derek has also posed for Playboy on numerous occasions, is an animal and political activist, and still makes occasional television and film appearances, including I Love the 70s.
External links