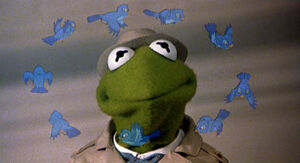 Animated Bluebirds appeared in The Great Muppet Caper. Following Miss Piggy's tumble in Lady Holiday's office, the cartoon birds swirl around Kermit the Frog's head, signaling love at first sight. The birds are cel animated in a Disney-esque style, particularly recalling the choral birds in Bambi.
See also
Ad blocker interference detected!
Wikia is a free-to-use site that makes money from advertising. We have a modified experience for viewers using ad blockers

Wikia is not accessible if you've made further modifications. Remove the custom ad blocker rule(s) and the page will load as expected.