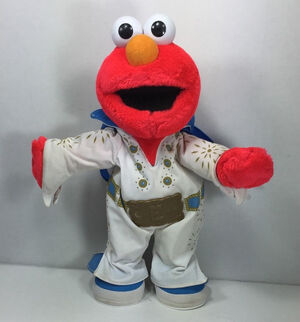 Blue Suede Shoes Elmo is a plush doll produced in 2000 by Mattel/Fisher-Price. At 15 inches, Elmo is dressed as Elvis Presley and sings some of his songs including, "Blue Suede Shoes", and "All Shook Up". After singing, he says "Thank you, thank you very much," a phrase often associated with Presley.
On Sesame Street, Elmo has appeared as Elvis in "Elmo's World: Singing".
Ad blocker interference detected!
Wikia is a free-to-use site that makes money from advertising. We have a modified experience for viewers using ad blockers

Wikia is not accessible if you've made further modifications. Remove the custom ad blocker rule(s) and the page will load as expected.