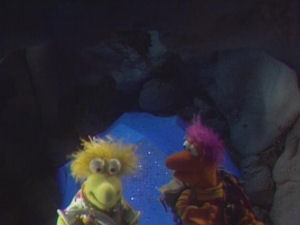 "One of the regions of the universe that remains uncharted is the frightening lair of the Beast of Blue Rock. Fraggle legend tells of the ancient explorers who ventured there, never to be seen again. Even I, Traveling Matt, was unable to complete this journey, so I leave it to those who come after me to enter Blue Rock and face the Beast on behalf of Fragglekind." -- Uncle Traveling Matt
Blue Rock is a magical place in Fraggle Rock that only appears two days after the Doozer Equinox and disappears again until a year later.
Gobo travels to Blue Rock in the Fraggle Rock episode "The Beast of Blue Rock." Wembley comes later because Gobo forgot his pick ax. The beast of Blue Rock is not a beast, It is fear. Gobo and Wembley conquered it together.
Ad blocker interference detected!
Wikia is a free-to-use site that makes money from advertising. We have a modified experience for viewers using ad blockers

Wikia is not accessible if you've made further modifications. Remove the custom ad blocker rule(s) and the page will load as expected.