Ad blocker interference detected!
Wikia is a free-to-use site that makes money from advertising. We have a modified experience for viewers using ad blockers

Wikia is not accessible if you've made further modifications. Remove the custom ad blocker rule(s) and the page will load as expected.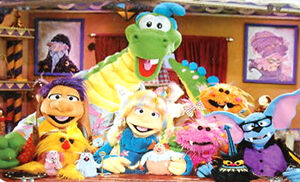 List of television series, films, and DVDs with no connection to the Jim Henson Company, but involving three or more Muppet performers and other common crew members. See also Projects with Muppet Cast Connections.
48 People
37 People
21 People
Johnny and the Sprites (2005 interstitials, 2007 series)
18 People
The Puzzle Place (1994-1998)
16 People
Lomax: The Hound of Music (2008-2009)
15 People
It's a Big Big World (2006-2010)
14 People
Team America: World Police (2004)
13 People
12 People
Eureeka's Castle (1989-1995)
9 People
Jack's Big Music Show (2005-2008)
8 People
The Adventures of Timmy the Tooth (1994-1995)
The Great Space Coaster (1981-1986)
The Spooks of Bottle Bay (1992, 1994, 1995)
Wrinkles: In Need of Cuddles (1986)
7 People
6 People
Groundling Marsh (1996-1997)
Round the Bend (1988-1990)
Sheep in the Big City (2000-2002)
5 People
Allegra's Window (1994-1997)
Miss Peach of the Kelly School (TV specials, 1970s and 80s)
Puppets Who Kill (2002-2006)
The Upside-Down Show (2006-2008)
4 People
Cousin Skeeter (1998-2003)
The Slow Norris (1995-1999)
The [title of show] Show (video blog)
3 People
Puppet Rampage (documentary, 2008)
Under the Umbrella Tree (1986-1993)
St. Bear's Doll Hospital (1998)
Wimzie's House (1995-1996)
Crash & Bernstein (2012-2014)
Gullah Gullah Island(1994-1998)
Toby Terrier and His Video Pals (1993)
Sources