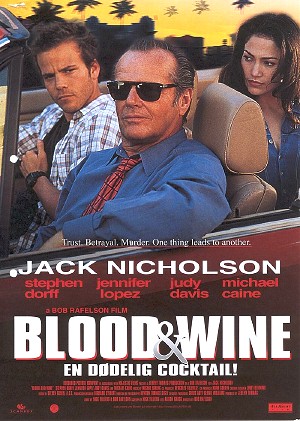 | | |
| --- | --- |
| Released | 1996 |
| Duration | 101 minutes |
| Director | Bob Rafelson |
| Written by | Nick Villiers and Alison Cross |
| Music | Michael Lorenc |
| Studio | 20th Century Fox |
| Rated | R |
Blood and Wine is a 1996 film with elements of crime drama and black comedy. Jim Henson's Creature Shop provided the effects for an animatronic shark.
Alex Gates (played by Jack Nicholson), a Miami-area wine merchant, is heavily in debt, and he can't get along with his alcoholic wife (Judy Davis) or his stepson (Stephen Dorff). He decides to steal an expensive necklace with his mistress and illegal immigrant Gabby (Jennifer Lopez) and an aging criminal (Michael Caine). Things start to fall apart when his wife finds out and gets involved.
Cast
Jack Nicholson: Alex Gates
Stephen Dorff: Jason
Jennifer Lopez: Gabriela "Gabby"
Judy Davis: Suzanne
Michael Caine: Victor "Vic" Spansky
Harold Perrineau: Henry
Jim Henson's Creature Shop
Creative supervisor: David Barrington-Holt
General manager: Matt J. Britton
Project manager & lead mechanic: Guy Himber
Mold department supervisor: Phil Jackson
Mold & skin crew: Larry Addison, Matt Flesher, Robin Jackson-Moore, Michael A. Pearce
Painter: Tom Killeen
Production coordinator: Jim Edson
Shop runner: Marc Martin
Ad blocker interference detected!
Wikia is a free-to-use site that makes money from advertising. We have a modified experience for viewers using ad blockers

Wikia is not accessible if you've made further modifications. Remove the custom ad blocker rule(s) and the page will load as expected.