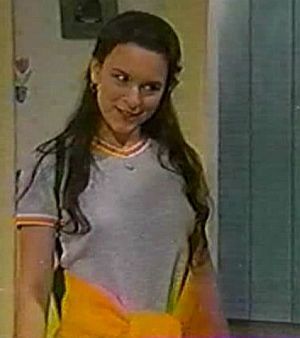 Blaze Berdahl (b. 1980) is an actress who played Heather's friend Jennifer in the Aliens in the Family episode "You Don't Have a Pet to Be Popular."
Berdahl is best known for her role as Lenni on the CTW series Ghostwriter. Other credits include the film Pet Semetary (as Ellie Creed) and a guest spot on Third Watch. An active voice artist since youth, animation credits include Buster the bird in the feature We're Back: A Dinosaur Story, characters in "TV Funhouse" segments on Saturday Night Live, and the Spice Girls in Celebrity Deathmatch, plus assorted commercials and audiobooks.
External links
Ad blocker interference detected!
Wikia is a free-to-use site that makes money from advertising. We have a modified experience for viewers using ad blockers

Wikia is not accessible if you've made further modifications. Remove the custom ad blocker rule(s) and the page will load as expected.