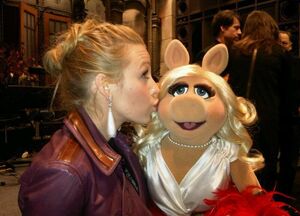 Blake Lively (b. 1987) is an actor most well known for appearing on TV in Gossip Girl, and in the Sisterhood of the Traveling Pants movies as well as Oliver Stone's Savages (with Salma Hayek), The Town (with Jon Hamm), The Private Lives of Pippa Lee (with Julianne Moore), and Green Lantern (with Ryan Reynolds).
During the production of the November 19, 2011 episode of Saturday Night Live, she appeared backstage with Miss Piggy and posed for a photograph.
References
On August 10, 2017, Uncle Deadly tweeted, "If anyone is looking for TV show pitches, I've got one. It's called Life & Death and stars @blakelively and me, Uncle Deadly." [1]
Ad blocker interference detected!
Wikia is a free-to-use site that makes money from advertising. We have a modified experience for viewers using ad blockers

Wikia is not accessible if you've made further modifications. Remove the custom ad blocker rule(s) and the page will load as expected.