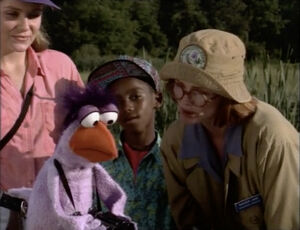 Bonnie Blair Brown (b. 1947) is an American actress. She guest starred in a 1991 episode of Sesame Street, in which she played Gina's friend, Jane, a ranger at Massapequa Wildlife Preserve.
In film, Brown appeared in Continental Divide (with John Belushi) for which she received her first Golden Globe nomination for Best Actress in a Comedy/Musical as Dr. Nell Porter.
In TV, Brown played the title role on the Emmy Award-nominated comedy-drama series, The Days and Nights of Molly Dodd. She also had a recurring role as Nina Sharp in the television series Fringe, and began playing Judy King in Orange is the New Black during its 3rd season. Her other credits include ER, Frasier, Law & Order: Special Victims Unit, and Smallville.
External links
Ad blocker interference detected!
Wikia is a free-to-use site that makes money from advertising. We have a modified experience for viewers using ad blockers

Wikia is not accessible if you've made further modifications. Remove the custom ad blocker rule(s) and the page will load as expected.