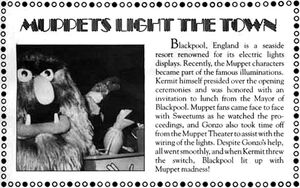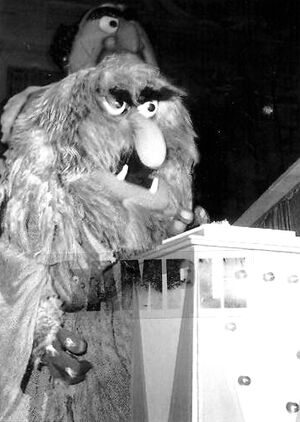 Blackpool Illuminations is an annual Lights Festival, founded in 1879 and held each autumn in the English seaside resort of Blackpool on the Fylde Coast in Lancashire.
Also known locally as The Lights or The Illuminations, they run each year for sixty-six days, from late August until early November at a time when most other English seaside resorts' seasons are coming to an end. The light show is six miles long and uses over a million bulbs for the displays which stretch from the Promenade from Starr Gate to the town of Bispham.
Begining in 1934, The Big Switch On has featured a celebrity pulling a switch to turn on the lights. On Friday August 31, 1979, Kermit the Frog, Gonzo, Miss Piggy and Sweetums turned on the big switch at 9:30 p.m.
Excerpt from volume 2, number 3 of The Muppet Show Fan Club:
"

Muppets Light The Town: Blackpool, England is a seaside resort renowned for its electric lights displays. Recently, the Muppet characters became part of the famous illuminations. Kermit himself presided over the opening ceremonies and was honored with an invitation to lunch from the Mayor of Blackpool. Muppet fans came face to face with Sweetums as he watched the proceedings, and Gonzo also took time off from the Muppet Theater to assist with the wiring of the lights. Despite Gonzo's help, all went smoothly and when Kermit threw the switch, Blackpool lit up with Muppet madness.

"
Other celebrities who have flipped the big switch have included The Bee Gees, Shirley Bassey, Joanna Lumley, Andrew Lloyd Webber and Geri Halliwell.
External links
Ad blocker interference detected!
Wikia is a free-to-use site that makes money from advertising. We have a modified experience for viewers using ad blockers

Wikia is not accessible if you've made further modifications. Remove the custom ad blocker rule(s) and the page will load as expected.