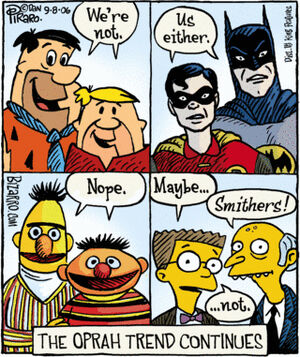 Bizarro is a single-panel cartoon written and illustrated by Dan Piraro which debuted in 1985. Many of his cartoon include hidden images, which include an eyeball, a piece of pie, a rabbit, an alien in a spaceship, a crown, a stick of dynamite, a show, an arrow, a fish tail, an upside down bird and the abbreviation "K2." According to Piraro's website, the abbreviation stands for his two daughters, Krapuzar and Kermit.
The strip was awarded the National Cartoonists Society's Newspaper Panel Cartoon Award for three straight years, 1999-2001. It was also award the National Cartoonists Society's Reuben Award in 2010, and was one of many strips invited to celebrate the 75th anniversary of Blondie (along with Garfield, Hägar the Horrible and others).

External links
Ad blocker interference detected!
Wikia is a free-to-use site that makes money from advertising. We have a modified experience for viewers using ad blockers

Wikia is not accessible if you've made further modifications. Remove the custom ad blocker rule(s) and the page will load as expected.