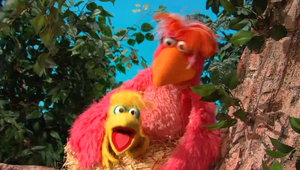 "The Bird Family" is a Sesame Street song originally from a News Flash sketch.
Kermit the Frog interviews a small bird in the park, who sings about how her parents live in separate trees (implying they are divorced or separated). Despite this, she knows she is loved no matter which home she is in.
A new version of the song was sung in Little Children, Big Challenges: Divorce by Birdie (John Tartaglia) along with his bird parents (Leslie Carrara-Rudolph and Kevin Clash), and Abby Cadabby.
Notes
The original News Flash segment would be the last to feature Jim Henson as Kermit.[1]
Sources
See also
Ad blocker interference detected!
Wikia is a free-to-use site that makes money from advertising. We have a modified experience for viewers using ad blockers

Wikia is not accessible if you've made further modifications. Remove the custom ad blocker rule(s) and the page will load as expected.