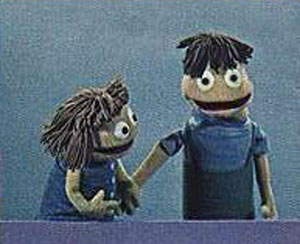 Billy and Sue are boy and girl puppets who were used in variety show appearances and commercials in the early and mid 60s.
Their names were identified in the July 27, 1963 issue of TV Guide. The image featured Billy with blanked eyes, accompanied by the caption "Sue and Billy: He loves Little Orphan Annie".
In the mid 60s, they were used for a series of proposed safety commercials for the Citizen's Advisory Committee on Highway Safety, with a mischievous character named Sneegle.
They were used in 1965 as the RX Twins in an industrial film called Shrinkel and Stretchel. They also appeared in a 1966 sketch with Rowlf the Dog on The Mike Douglas Show.