Billy Jo Jive
Talk

0
27,141pages on
this wiki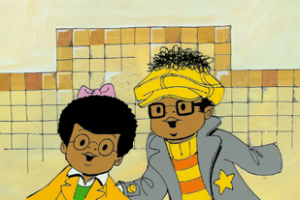 Billy Jo Jive, self-described super crimefighting ace, was a prepubescent African-American detective in animated segments on Sesame Street in the late 1970s and early 80s. Along with his sidekick, Smart Susie Sunset, Billy Jo would solve crimes in his neighborhood.
The series was produced Shearer Visuals and former Terrytoons animator Ray Favata and animated by his production partner Ed Seeman. Its theme song was an electronic funk instrumental by Richard C. Sanders called "Afrocat."
The characters of Billy Jo and Smart Susie originated in a series of children's books by John Shearer, with illustrations by his father Ted Shearer. The series debuted with Billy Jo Jive, Super Private Eye: The Case of the Missing Ten Speed Bike in 1976. When the sequel The Case of the Sneaker Snatcher was published in 1977, the cover boldly advertised "Don't miss Billy Jo Jive and Susie Sunset on Sesame Street!"
Segments
Billy and Suzie look for a missing wig. They find dirty hand prints at the scene of the crime, and also find them on a poster for a school play. They go there where they find the person who stole the wig, and also see his dirty hands.
Billy and Suzie search for missing shortcakes.
After Bad News barton fails to make the swimming team, Billy and Smart Suzie teach him to eat healthier. (YouTube)
Billy and Suzie solve the case of the midnight voices. The voices end up belonging to a lost dog, whom they give the name "Meatbone". (YouTube)
Billy Jo Jive and Smart Suzie Sunset search for Aunt Nellie's dog Meatbone, not knowing that he's been following them the whole time.
The doctor asks Billy and Sunset to get Bad News Barton to his office. They eventually bring Bad News Barton to the office, but the whole thing had been a set-up to get Billy Jo Jive to come to the doctor to get a shot. (YouTube)
Billy and Sunset help out Wrong Way Willie, a kid who gets many things wrong (such as wearing a football outfit on the way to play basketball). (YouTube)
Billy Jo Jive and Smart Suzie Sunset help Wrong Way WIllie find his missing house keys. (YouTube)