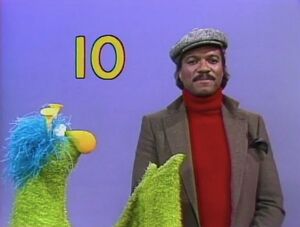 Billy Dee Williams (b. 1937) is an actor best known for playing Lando Calrissian in the Star Wars franchise, Harvey Dent in Tim Burton's Batman, and appearing opposite Diana Ross in Mahogany and Lady Sings the Blues.
Williams appeared on Sesame Street to count backwards from 10 with Homer Honker. (EKA: Episode 2403)
Starting out as a bit player on soap operas, Williams received an Emmy Award-nomination for his portrayal of Gale Sayers in the acclaimed TV movie Brian's Song (opposite Jack Warden) and has guest starred on the likes of Lost, 227, A Different World, Mission: Impossible, and That 70's Show. Other film credits include The Out of Towners (with Jack Lemmon), Nighthawks (as Sylvester Stallone's partner), The Bingo Long Traveling All-Stars & Motor Kings, The Ladies Man, and Undercover Brother. Williams lent his voice to Robot Chicken, once again playing Lando Calrissian.
External links