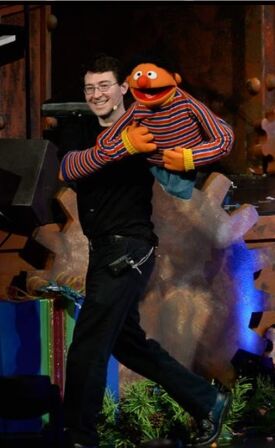 Billy Barkhurst is a puppeteer, credited as a Muppet performer for seasons 41 and 45 of Sesame Street and the 2009 special Families Stand Together: Feeling Secure In Tough Times. Lately, he has been active in performing Ernie — providing the voice for live stage shows since 2009 and puppeteering and voicing the character in season 45 and in other public appearances starting in 2014, replacing Steve Whitmire.
Credits
External links
Ad blocker interference detected!
Wikia is a free-to-use site that makes money from advertising. We have a modified experience for viewers using ad blockers

Wikia is not accessible if you've made further modifications. Remove the custom ad blocker rule(s) and the page will load as expected.