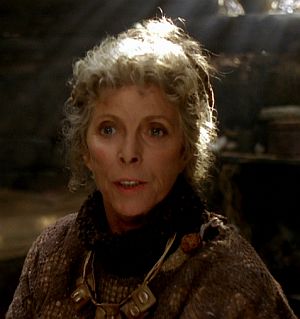 Billie Whitelaw (1932-2014) was a distinguished English actress for both stage and film. She provided the voice of Aughra in The Dark Crystal and appeared in Merlin as Auntie Ambrosia.
Whitelaw worked alongside notables such as Alfred Hitchcock (Frenzy), Orson Welles (Mr. Topaze) and Peter Sellers (I Like Money). She appeared frequently on television, often in costume dramas such as Jane Eyre and A Tale of Two Cities. One of her more distinctive film appearances was as the sinister nanny Mrs. Baylock in The Omen.
External links
Ad blocker interference detected!
Wikia is a free-to-use site that makes money from advertising. We have a modified experience for viewers using ad blockers

Wikia is not accessible if you've made further modifications. Remove the custom ad blocker rule(s) and the page will load as expected.