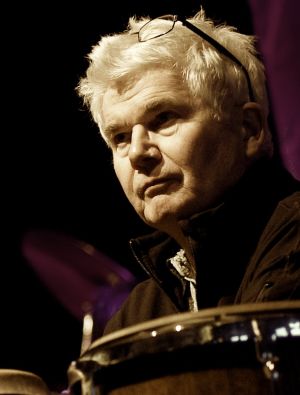 Bill Usher is a Canadian music producer and composer who produced the 1981 Sesame Street album Camping in Canada. He was also credited for story and arrangement concepts, wrote several songs, and played percussion and drums on the soundtrack. Usher later produced several albums with Bob McGrath, including the 1991 release Bob's Favorite Street Songs where he again played percussion, as well as keyboards.
As a percussionist, Usher played on records or on stage with Bruce Cockburn, Raffi, and at various folk festivals. He moved to producing starting, notably Sharon, Lois & Bram's One Elephant/Deux Éléphants (1978) and several follow-up albums. Usher ran his own label, Kids' Records, from 1981 until 1990.[1] Camping in Canada and the 1980s Bob McGrath albums were released under that label, as well as titles featuring CBC character The Friendly Giant, stories by Robert Munsch, and Usher's own 1986 album Drums! which demonstrated his versatile percussion skills.
Sources
↑ Bill Usher's resume. PDF. 2012
External links
Ad blocker interference detected!
Wikia is a free-to-use site that makes money from advertising. We have a modified experience for viewers using ad blockers

Wikia is not accessible if you've made further modifications. Remove the custom ad blocker rule(s) and the page will load as expected.