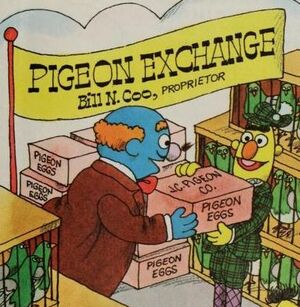 Bill N. Coo is the presumably proud proprietor of the Pigeon Exchange, as portrayed pictorially in the Sesame Stories tale "Don't Count Your Pigeons."
The name of Coo's business suggests the stock exchange. However, it seems to function primarily as an intermediary between mail-order pigeon firms (such as the J.C. Pigeon Company) and their customers. Bert imagines a triumphant visit to the Pigeon Exchange to pick up his twelve dozen pigeon eggs.
Bill N. Coo's name is a pun, based on the common phrase "bill and coo" to describe the mating rituals of birds, especially pigeons and doves.
Ad blocker interference detected!
Wikia is a free-to-use site that makes money from advertising. We have a modified experience for viewers using ad blockers

Wikia is not accessible if you've made further modifications. Remove the custom ad blocker rule(s) and the page will load as expected.