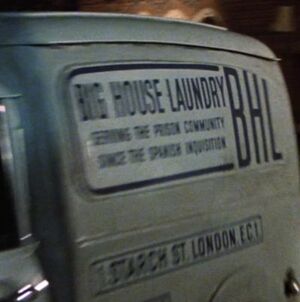 Big House Laundry is a laundry firm catering specifically to prisons in The Great Muppet Caper. A truck departing one of Her Majesty's prisons is used by Miss Piggy in her jailbreak (clinging to the back).
Big House Laundry is located at 1 Starch Street, London. Their motto is "Servicing the Prison Community since the Spanish Inquisition."
See also
Ad blocker interference detected!
Wikia is a free-to-use site that makes money from advertising. We have a modified experience for viewers using ad blockers

Wikia is not accessible if you've made further modifications. Remove the custom ad blocker rule(s) and the page will load as expected.