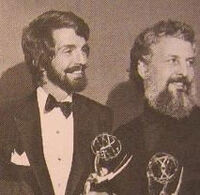 Big Bird in Ireland was a proposed Sesame Street special that would follow in the footsteps of Big Bird in China and Big Bird in Japan and bring the character to Ireland.
In the special, Big Bird was to be captured by Irish fairies, with Elmo having to rescue him. The special would have also featured Irish step dance sequences featuring Savion and a troop of dancing girls, a story about a horse-farm family and a cameo by the (then) President of Ireland, Mary Robinson.
Preparations began in the summer of 1992, when Jon Stone, Joseph A. Bailey and Polly Stone performed location scouting; the special was to tape the following summer. The special never came into fruition, due to Jon Stone's illness beginning just after writing.
Sources
Ad blocker interference detected!
Wikia is a free-to-use site that makes money from advertising. We have a modified experience for viewers using ad blockers

Wikia is not accessible if you've made further modifications. Remove the custom ad blocker rule(s) and the page will load as expected.