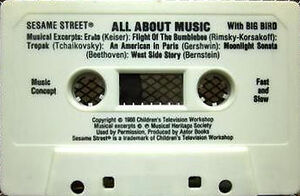 Big Bird and Grover: Fast and Slow is part of a series of books designed to introduce children to music concepts. Other books in the series include All About Music: Scheherryzade and the Arabian Nights and Meet Big Bird's Orchestra.
The accompanying cassette includes a seletion of 6 pieces meant to illustrate the concepts of "fast" and "slow". These are:
See also
Ad blocker interference detected!
Wikia is a free-to-use site that makes money from advertising. We have a modified experience for viewers using ad blockers

Wikia is not accessible if you've made further modifications. Remove the custom ad blocker rule(s) and the page will load as expected.