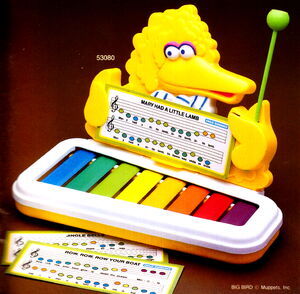 Big Bird Xylophone is a Sesame Street musical toy made by CBS Toys in 1983. A plastic figure of Big Bird watches over the player, holding the mallet that can be used to strike the xylophone keys. Big Bird also holds the simple music notes, which play common public domain songs.
Ad blocker interference detected!
Wikia is a free-to-use site that makes money from advertising. We have a modified experience for viewers using ad blockers

Wikia is not accessible if you've made further modifications. Remove the custom ad blocker rule(s) and the page will load as expected.