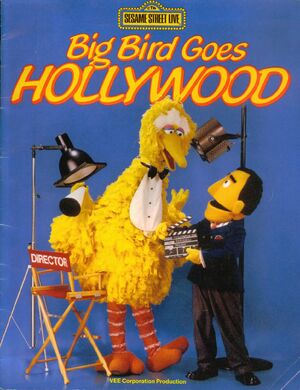 Big Bird Goes Hollywood is a Sesame Street Live show, produced by VEE Corporation in 1986.
Plot
Guy Smiley wins a movie studio but must put together a feature film in one hour. Director Big Bird and the rest of the Sesame Street gang answer Smiley's call for help. Meanwhile, Izzy Great and Wuzzy Wonderful, both of whom had lost the studio to Smiley, attempt to sabotage the gang's efforts.
Cast
Scenes
So Nice to Be Here with You Bert, Ernie, Cookie Monster, Grover, The Count, Prairie Dawn, Herry Monster and Barkley
Wonderful Me Big Bird, Bert, Ernie, Cookie Monster, Grover, The Count, Prairie Dawn and Herry Monster
Who Cares Guy Smiley, Big Bird and Oscar the Grouch
Movie Studio The Full Cast
Hollywood Rap Izzie Great and Wuzzy Wonderful
Clap Your Hands Big Bird and Guy Smiley
Let a Smile Be Your Umbrella Bert, Oscar the Grouch and the Full Cast
Fractured Fairy Tales Big Bird and Guy Smiley
The Count's Castle Armor Men, Grover, Big Bird and Guy Smiley
My Furry Little Shadow Grover and Barkley
Monster Laboratory The Count, Cookie Monster, Prairie Dawn, Barkley, Frankie Monster, Grover, Herry Monster, Mona Monster, Furlin Monster, Wooly Monster, Molly Monster and Maggie Mae Monster
City Clock Setter Izzie Great, Wuzzy Wonderful and Oscar the Grouch
Intermission
Outer Space (song) Celestial Creatures, Big Bird, Bert and Ernie
Noises in the Dark Bert and Ernie
Grover of the Jungle Prairie Dawn, Grover, Herry Monster, Cookie Monster, Bert, Ernie and Guy Smiley
Three Minutes to Go Big Bird, Guy Smiley, Izzie Great and Wuzzy Wonderful
High Hopes Big Bird, Prairie Dawn, Bert and Ernie
Latin Conga The Full Cast
Production Credits
Notes
This is the first Sesame Street Live show to have its program with some of the walk-arounds on the front.
External links
Ad blocker interference detected!
Wikia is a free-to-use site that makes money from advertising. We have a modified experience for viewers using ad blockers

Wikia is not accessible if you've made further modifications. Remove the custom ad blocker rule(s) and the page will load as expected.