Ad blocker interference detected!
Wikia is a free-to-use site that makes money from advertising. We have a modified experience for viewers using ad blockers

Wikia is not accessible if you've made further modifications. Remove the custom ad blocker rule(s) and the page will load as expected.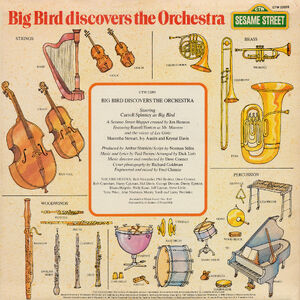 In the album-length story contained on Big Bird Discovers the Orchestra, Mr. Maestro has lost his orchestra, and asks detective Big Bird to help him find it. Big Bird encounters each section of the orchestra, and learns about the instruments. He then places the section into his little red wagon and continues on his journey.
The orchestra members include the following:
Jean-Jacques Jean, french horn
Flip Flunkit, trumpet
Joan, trombone (who learned to play from Stan, who sings "Trombone Man")
Booba, tuba
The string family: Victor Vivaldi (violin), Viola Vivaldi (viola), Variety Vivaldi (cello) and Vernado Vivaldi (double bass)
This album was nominated for a Grammy Award for Best Recording for Children, but lost to Sesame Country.
Track listing
Side One
Overture
Makin' Music's Fun
Galop for French Horn
Trombone Man
Oom-Pah-Pah
Opus for Oboe
Pizza Polka
Side Two
Concerto for Pots and Pans
(Parnes-Evans)
I'm a Cymbal Player
Piano Tuner's Tango
Me and My Baton
Big Bird's Heroica Symphony No. 3 in E-flat, Opus 55
Makin' Music's Fun (reprise)
Cast
and the Voices of Les Girls: Maeretha Stewart, Ivy Austin and Krystal Davis
Production credits
The Orchestra
Other releases
C 5095 (Sesame Street cassette)
See also