Ad blocker interference detected!
Wikia is a free-to-use site that makes money from advertising. We have a modified experience for viewers using ad blockers

Wikia is not accessible if you've made further modifications. Remove the custom ad blocker rule(s) and the page will load as expected.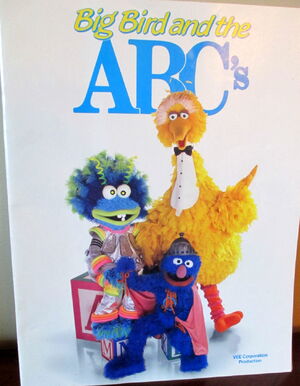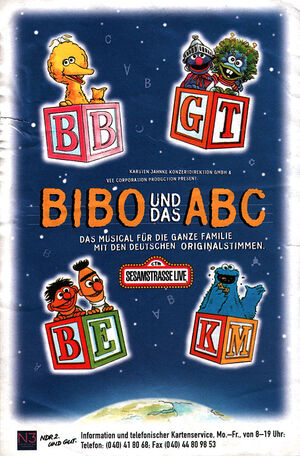 Big Bird and the ABCs is a Sesame Street Live show first produced by VEE Corporation for the 1987-1988 tour. It was also repeated over the next four years.
In the show, the Sesame Street gang attempts to teach the alphabet to their new friend, an alien named Tee Hee from the planet Crayon, and who speaks the language Crayon.
The show runs roughly 100 minutes.
Cast
Songs
Act I
Hello: Big Bird, Cookie Monster, Ernie, The Count, Bert, Prairie Dawn, Guy Smiley, Super Grover, Tee Hee
The People in Your Neighborhood: Big Bird, Cookie Monster, Ernie, The Count, Bert, Prairie Dawn, Guy Smiley, Super Grover, Tee Hee, Postman, Painter, Gina, Tina, Doctor, Handyman
The Alphabet: Tee Hee, Big Bird
C is for Cookie: Cookie Monster, Tee Hee, Guy Smiley, Grover, The Count
Everybody Likes to Laugh: Tee Hee, Bert, Ernie
My Womblie: Tee Hee, Snuffleupagus
The Count's Diner: The Full Cast
Act II
Grouchy Green and Happy Blue: Oscar the Grouch, Cookie Monster, Bert, Ernie, Prairie Dawn, Telly Monster, Guy Smiley, Gina, Tina, Doctor, Painter, Farmer, Handyman
Rap Happy: Grover, Tee Hee
Hip to Be Square: Bert, The Count, Prairie Dawn, Gina, Tina, Cookie Monster, Ernie, Guy Smiley
Color Crayons: Big Bird, Tee Hee
Nursery Rhymes: Big Bird, Tee Hee, Prairie Dawn, The Count, Ernie, Tina, Bert, Cookie Monster, Grover, Telly Monster
Name That Word: Guy Smiley, Prairie Dawn, Tee Hee, Big Bird
It's Okay: Tee Hee, Telly Monster, Prairie Dawn
The Alphabet's for Everyone: Big Bird, Tee Hee, Oscar the Grouch, Snuffleupagus
Goin' Home: The Full Cast
Production Credits
References