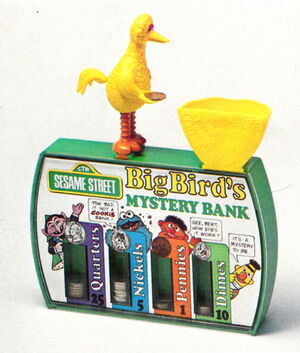 Big Bird's Mystery Bank is a Sesame Street piggy bank made by Knickerbocker in 1976. When a coin is placed in Big Bird's hand, he drops it into his nest. The coin then rolls down a slide and mysteriously sorts into dimes, pennies, nickels and quarters.
The Count, Cookie Monster, Ernie and Bert are pictured on the front, apparently baffled by the mystery.
Another version of the Mystery Bank was made by Ideal Toys in 1986, with a different illustration on the label.
Ad blocker interference detected!
Wikia is a free-to-use site that makes money from advertising. We have a modified experience for viewers using ad blockers

Wikia is not accessible if you've made further modifications. Remove the custom ad blocker rule(s) and the page will load as expected.