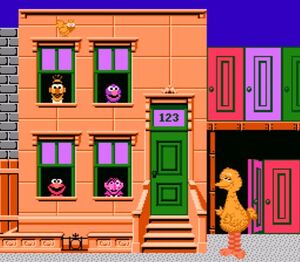 Big Bird's Hide & Speak is a Sesame Street video game produced by Hi Tech Expressions and released for the Nintendo Entertainment System in 1990.
The game features the digitized voice of Caroll Spinney as Big Bird. Big Bird guides the player through six modes of play, all variations on the basic concept of finding Sesame Street Muppets who are hiding in the rooms of 123 Sesame Street. The player controls Little Bird, who flies from window to window seeking Ernie, Bert, Grover, the Count, and Elmo.

thumb|300px|left|Big Bird's Hide and Speak gameplay.