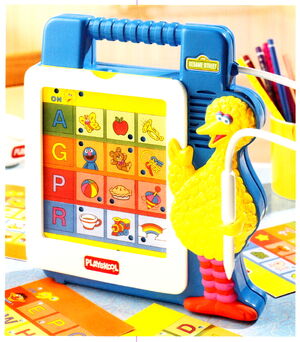 Big Bird's Talk 'n Learn is a Sesame Street toy made by Hasbro in the early 1990s under the Playskool label. Big Bird teaches basic skills by playing games with 15 activity cards. Each card has a game, like "Match the Letter with the Picture" or "Which One Does Not Belong?" Slide the card in, and Big Bird leads the player through the game, congratulating them for correct answers and urging them to try again when they get a question wrong.
Ad blocker interference detected!
Wikia is a free-to-use site that makes money from advertising. We have a modified experience for viewers using ad blockers

Wikia is not accessible if you've made further modifications. Remove the custom ad blocker rule(s) and the page will load as expected.