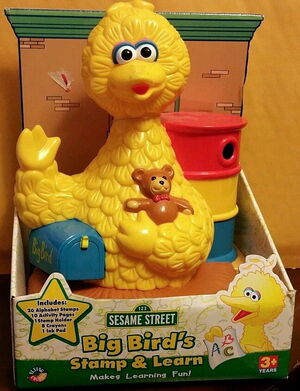 Big Bird's Stamp & Learn is a 2000 educational Sesame Street crafts set that comes with 26 rubber stamps, one for each letter of the alphabet. The set also includes 10 activity pages, a stamp holder, eight crayons and an ink pad. Each stamp is decorated with a Sesame character doing something that begins with that letter -- Big Bird eating an apple for A, Prairie Dawn dressed as a nurse for N, Hoots the Owl for O, Elmo holding a star for S, and Bert talking on the telephone for T.
The set is housed in a case that looks like Big Bird sitting in his nest, holding his teddy bear, Radar.
The set was made by Flying Colors Toys, a subsidiary of JAKKS Pacific.
Ad blocker interference detected!
Wikia is a free-to-use site that makes money from advertising. We have a modified experience for viewers using ad blockers

Wikia is not accessible if you've made further modifications. Remove the custom ad blocker rule(s) and the page will load as expected.