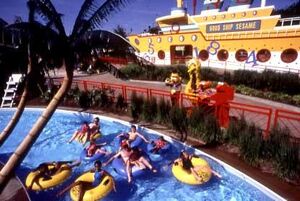 Big Bird's Rambling River is the longest attraction at the Sesame Place amusement park. The ride opened to the public in 1990. The water ride is a 1,000-foot "lazy river", where visitors float in single innertubes through bubbling and swirling rapids, go under waterfalls and palm trees that dump water from the coconuts, and dodge geysers and fountains that spray water.
Ad blocker interference detected!
Wikia is a free-to-use site that makes money from advertising. We have a modified experience for viewers using ad blockers

Wikia is not accessible if you've made further modifications. Remove the custom ad blocker rule(s) and the page will load as expected.