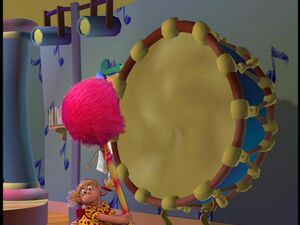 "Big Bass Thumper Bumper" is a Wubbulous World of Dr. Seuss song sung by Sarah Hall-Small and the Seussville Band about her finding the best sound on a Big Bass Thumper Bumper and how she can play it high, low, fast and slow. She also sings about some of the other different instruments played by the band members. There's a Whosaphone, Treble Trombone and a Purple Cone. As the song ends she bounces around on the Thumper Bumper as she finishes the song. It was featured in the episode "The Sounds All Around."
Trivia
In the episode "Lester Leaps In", the Big Bass Thumper Bumper is seen in Sarah's room. She wants to play her brother some music, but her dad tells her not to.
Ad blocker interference detected!
Wikia is a free-to-use site that makes money from advertising. We have a modified experience for viewers using ad blockers

Wikia is not accessible if you've made further modifications. Remove the custom ad blocker rule(s) and the page will load as expected.