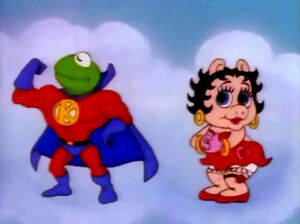 Betty Boop is an animated character created by Grim Natwick, and made famous in a series of films by the Fleischer Studios. Debuting in 1930 in the short Dizzy Dishes, the character was originally an anthropomorphic French poodle, beform transforming into the overtly sexual flapper girl. Toned down due to the Production Code of 1933, which imposed guidelines on the Motion Picture Industry as to sexual innuendos and references, her popularity dwindled, with the last cartoons released in 1939.
Her popularity remained, with the release of all 110 of her shorts being syndicated to television in 1955. A comic strip was revived in 1984, along with two made for television specials, and a cameo in Who Framed Roger Rabbit?
Boop further appeared alongside Kermit the Frog and Miss Piggy in an ad campaign for Adidas Adicolor shoes and training jackets in 2006.
References