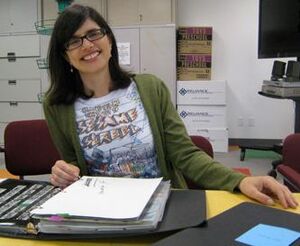 Betsy Loredo has been involved in Muppet/Sesame Street publishing for over two decades. She served as an assistant editor on Muppet Magazine, where she also wrote several "as told to" articles and columns in the voices of the Muppet characters, from Fozzie Bear to Gonzo.
Currently, Loredo is the executive editor for Sesame Workshop's book division and a content producer for digital endeavors. She has worked on interactive books like Elmo's Noisy Day, and the animated digital versions of The Monster at the End of This Book, Another Monster at the End of This Book and The Great Cookie Thief. In her editorial capacity, she served as contributing editor to Sesame Street: A Celebration - 40 Years of Life on the Street.
Ad blocker interference detected!
Wikia is a free-to-use site that makes money from advertising. We have a modified experience for viewers using ad blockers

Wikia is not accessible if you've made further modifications. Remove the custom ad blocker rule(s) and the page will load as expected.