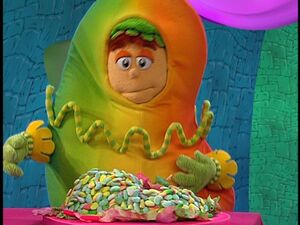 "Best Bean I've Ever Seen" was sung by Milo about his favorite food. King Derwin sings along after relazing that Milo is right and that anyone who loves what they do and lets him enjoy his Blimple Beans. It was featured in Episode 207: The Feed You Need of The Wubbulous World of Dr. Seuss.
Ad blocker interference detected!
Wikia is a free-to-use site that makes money from advertising. We have a modified experience for viewers using ad blockers

Wikia is not accessible if you've made further modifications. Remove the custom ad blocker rule(s) and the page will load as expected.