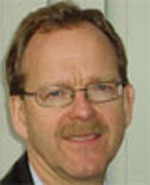 Bertil Engh (b. June 16, 1952), born Bertil Axel Olof Engh, voiced the Ghost of Christmas Present in Mupparnas Julsaga, the Swedish dub of The Muppet Christmas Carol.
Bertil Engh teaches music at Mörmoskolan in Skoghall. Besides being a teacher, he is a well known singer in Sweden. He has participated in the Swedish qualification round for the Eurovision Song Contest. In the 1988 competition, he entered with the song En explosion, written by Monica Forsberg.
Dubbing credits include Disney's Adventures of the Gummi Bears (Toadie), Chip'n Dale Rescue Rangers (Dale), TaleSpin (Louie) and Astérix et la surprise de César.